Versatile Living for Every Renter
From single living to small family, we have eight inclusive options.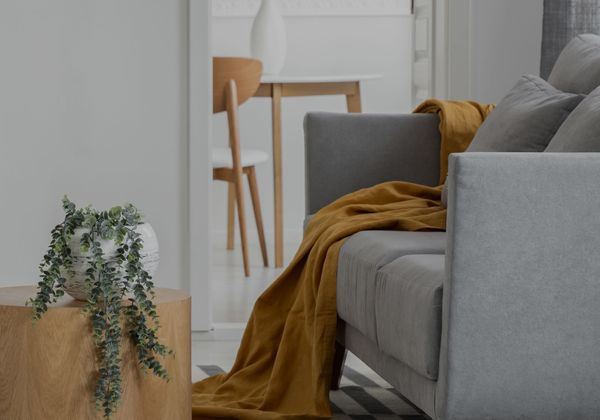 FLOOR PLANS
If you're looking for modern living in Windsor, Colorado, with all the amenities you could ever need, look no further than Mountain View Apartments at RainDance. Our spacious and stylish floor plans provide everything you need to make your new life on the Front Range comfortable and convenient. Not only that, but our apartments are also thoughtfully designed and laid out for maximum efficiency and usability, so you can enjoy a life of luxury without lifting a finger.
Below, you'll find everything you need to know about our beautiful apartment floor plans. We offer a wide range of options for every preference and price point, so we're confident you'll find a layout you'll love! Continue scrolling to learn more, then contact us to get on our waitlist. (Hurry, it's filling up fast!)
Explore Our Windsor Floor Plans
Our luxury apartment complex in Windsor is home to a variety of floor plans that can suit any lifestyle. Whether you're looking for a one-bedroom apartment or a larger two- or three-bedroom space, we have something to fit your needs. Take a look at the Dall floor plan, for example, which provides the perfect amount of room for you and your furry companion to relax in. Or, consider the aptly-named Bighorn, which boasts 1336 square feet of refined design and optimized utility.
If you're struggling to pick a favorite based on blueprints alone, we encourage you to get in touch with our team. We can provide you with photos or even help you schedule a tour!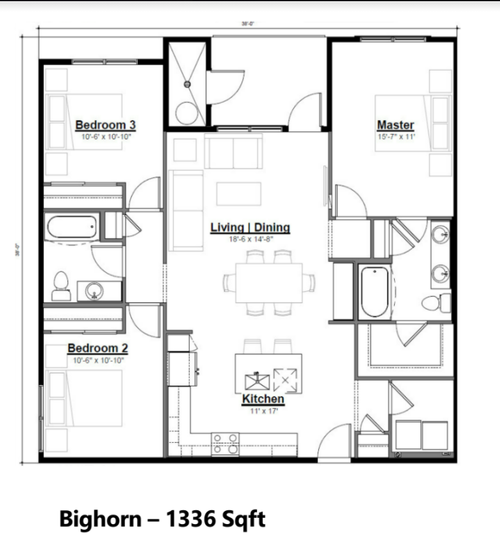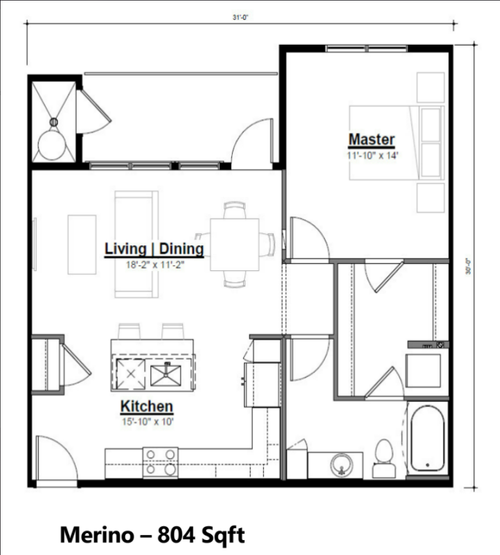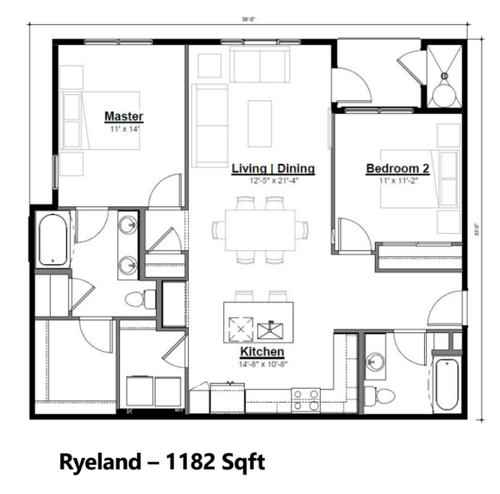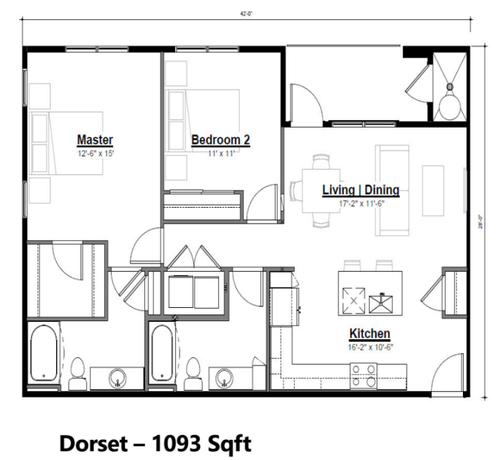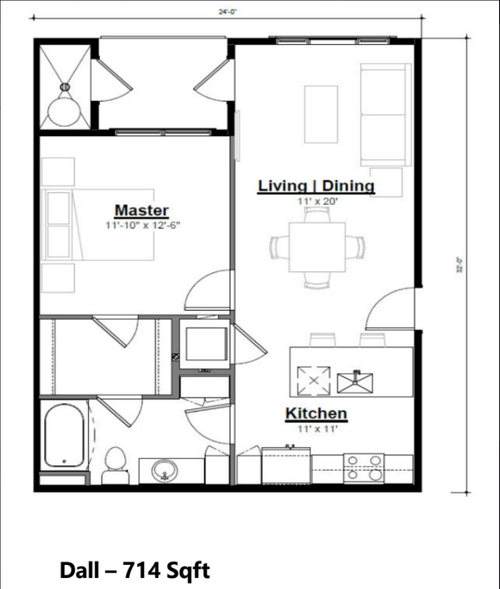 Front Range Living
No matter which floor plan catches your eye, you're sure to benefit from some of the most spacious and well-equipped apartments in Windsor. Each floor plan was meticulously designed by experienced architects who knew how to balance form and function. Sizeable storage spaces, beautiful balconies, and luxurious living rooms are just some of what you can expect when you call Mountain View Apartments at RainDance your new home.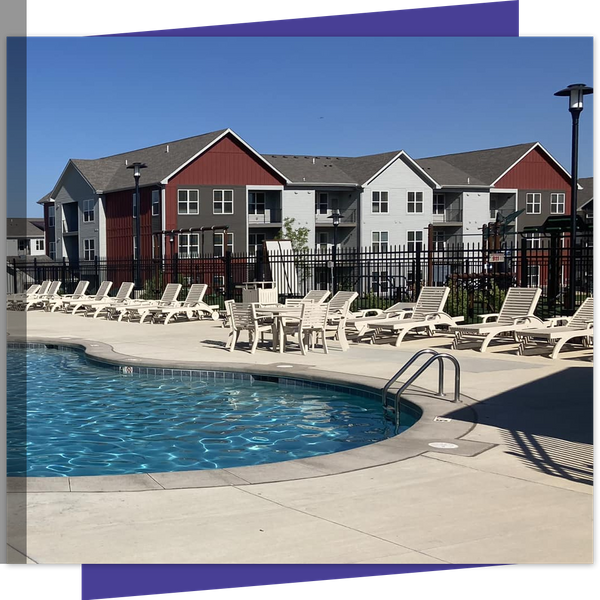 Amenities Galore
When it comes to luxury apartment living, it's all about the amenities. That's why we spared no expense when outfitting our properties with high-end features, bespoke design elements, and world-class conveniences.
Our floor plans include dozens of standard features that would likely cost a premium anywhere else. Stainless steel appliances, walk-in closets, high-speed internet access, and more are all yours when you choose to join the RainDance community.
With so much to enjoy from inside your apartment, you might never want to leave! But when you do venture outside, you can take advantage of everything else our apartment complex has to offer. Swim some laps at the pool, pump out a few reps at the gym, or even catch a movie at our very own movie theater. The world is yours to explore when you live here!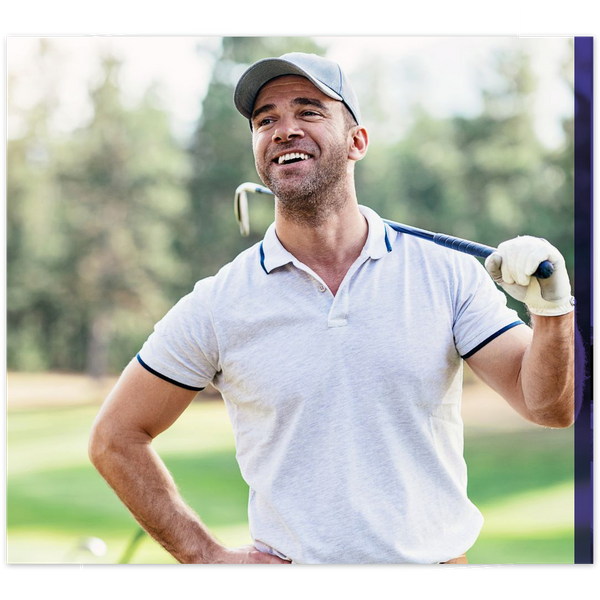 Windsor's Hottest Community
Windsor is an amazing city, and Mountain View Apartments at RainDance is the most desirable community in town. Downtown Windsor is just minutes away, so you can benefit from easy access to some of the best restaurants and breweries on the Front Range. Plus, if you enjoy playing golf, you won't be far from the longest course in North America!
Our luxury apartment complex is also just two miles east of I-25, which means you can commute to Denver or head to the mountains without even stopping for gas. With a great location, incredible amenities, and affordable floor plans, what's not to love?
If you're thinking about living at Mountain View Apartments at RainDance, browsing our floor plans is a great place to start. Then, once you've found the one that speaks to you, contact our team to schedule a tour or get on our waitlist. We can't wait to welcome you to your new home!